BOAO YILING LIFE CARE CENTER (hereinafter referred to as care center) is the world's first tertiary comprehensive medical institutions named after " life care center " . It is located at Boao Lecheng International Medical Tourism Pilot Zone which was honored by prime minister LI KEQIANG as "he 2nd Chapter of Boao Forum for Asia. In 2017 it was rated as national high and new technology enterprise of Hainan province .The life care center is situated in the south bank of Wan Quan river, enjoying picturesque scenery and peaceful natural environment.
This medical complex consists 9 centers and 1 hospital —Life care and scientific research centers, precision medical research center, physical examination center, health care center, beauty care center, BOAO super hospital of TCM, Body function rehabilitation center, Diseases management center, VIP Image Design Center, Culture and arts experience center. It mainly to carry out health promotion, disease prevention, chronic diseases management, health maintenance, health preservation and rehabilitation, Traditional Chinese Medicine therapy, Life Beauty Care, Mind & Soul rehabilitation, medical tourism, international referral and chronic diseases diagnosis and treatment and latest medical technology, etc.
Yiling Life Care Center created a new system of life conservation, which was based on the general background of "healthy China, beautiful China, and happy China". It upholds the concepts of " big health view" and " big life view", which starts to focus health instead of diseases, figuring ways of preventing diseases rather than dealing with them. The innovative combination between conversation and treatment, medicine and tourism, western and eastern medicine, medical elements and cultural elements created by Yiling generates a new norm of medical service and boosts a new industrial format.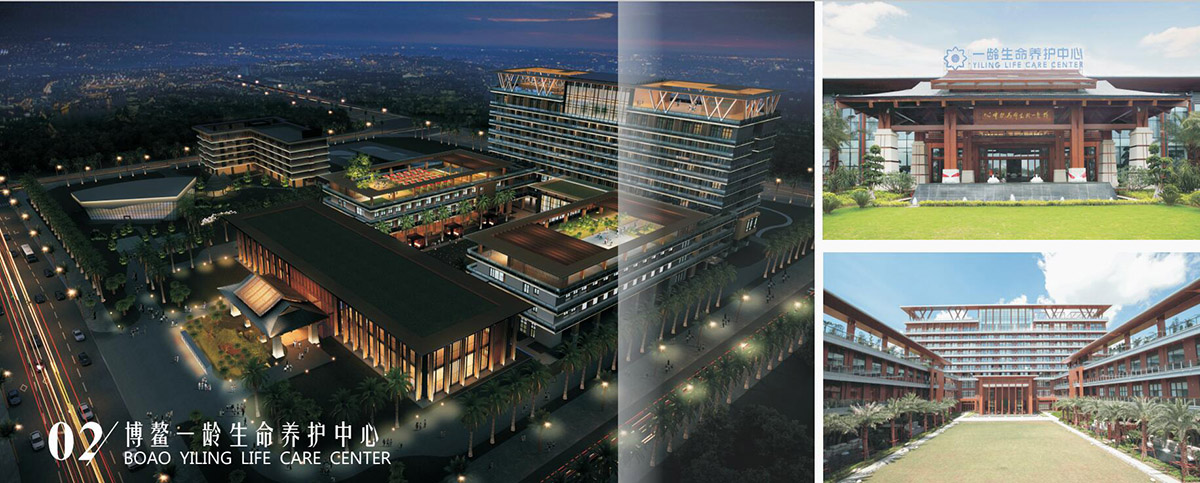 1: life conservation science research center
With the purpose of promoting the overall physical and mental health of customers, the life care center aims to create a leading "life care, life quality improvement" new life care style. It gathers a large number of senior experts and professors in life care filed , medical technology, health risk assessment, mathematical and statistical analysis, etc., which can provide customers with high-quality professional services such as health pre-check, risk assessment, health promotion, effect evaluation and dynamic management. There are three departments in the center: the academic research department of life care, the department of life maintenance number evaluation, and the department of general health risk evaluation.
The achievements of the center include the publishing of " Life & Health Care Guide", "Life & Beauty Care Guide", "Life & Soul Conversation", and "Health Risk Assessment", establishing a unique life care theory system characterized of Yiling Life Care Center. Meanwhile, it develops a health risk assessment system, builds up the dynamic management standard of health diagnosis - intervention - effect evaluation - life cycle care.
Through the construction of big data platform and epidemiological research, the center will provide a basis for the establishment of life maintenance and the optimization of professional configuration decision. With statistical correlation research, verify and establish effective life care technology, it will establishes evidence-based technology standards for life care. To provide digital, intelligent, precise and individualized medical services for service objects, it provides important reference for verifying life maintenance theory and life maintenance model. The vision of the center is with the joint efforts of all staff and all members of YI LING Group, the center will help the Group become a "trendsetter" in the "healthy China" tide and a "leading model " in the life care industry, and a "holder" of public health, and a "leader" in the international health arena in the near future.
2: Precision medicine research center
Precision medical research center includes the BOAO YILING Maidea precision institute of medicine and bio-medical shared research platform. It mainly focus on the basis of precision medical research and precision medicine clinical research, especially in tumor immunity, anti-aging, digestive, respiratory and circulation system disease risk prediction, molecular diagnosis, prevention and treatment of individuation. It has comprehensive bio-medical research laboratories, including genetic testing lab, molecular biology lab, functional medicine laboratory, molecular pharmacology laboratory, tissue engineering laboratory, biological laboratory, laboratory of targeted drugs, Life bank of health & beauty. The center is committed to leading the precision medicine research level in the forefront of international counterparts, and strives to make enduring influence in the international precision medicine research field, providing academic support and technical support for human life maintenance.

3: Life and health pre-test center
We put the customer on the center of our priority, take the quality as the core service objective, take "5 heart" as the service standard. By applying the internationally advanced medical testing technology to provide customers with the most comprehensive and authoritative life testing services. It has more than 20 clinical consulting sections, including physical examination, ultrasound, imaging and digestive endoscopy. It equipped with DHIS.FtpClient, a specialized physical examination system, which basically realizes the automation, networking and informativeness of the whole process of the examination and provides faster and more accurate diagnostic data for doctors and customers .The whole medical examination process is a perfect combination of fully automated health examination system and personalized service, which makes customers experience the efficiency, convenience, comfortableness and exclusiveness.
The center opens two examination channels separately for men and women, and the customers can take their pre-meal check and the post-meal check separately. Besides, one-on-one guiding service runs the whole process. The customers will have chief physician to explain all items on the examination report, and each of them will be offered with automatic health check system. Hundreds of items on the examination report will be completed within 4 hours at the same day. The functional medicine detection system is developed in this center independently, the test project contains anti-aging capability assessment, cardiovascular risk prediction and cancer risk prediction, etc., covering the neurotransmitter, level of endocrine hormone levels, oxidative, cardiovascular risk factors and tumor factors and so on more than 50 index, providing the most accurate data support for the "Preventing diseases from happening is the best treatment" theory. The 2019 version of pre-inspection package is cultivated on the basis of the statistical analysis results of more than 20,000 person-times health big data of Yiling's members in the past four years. The projects are comprehensive and of highlights, among which 45 major items are for women and 42 are for men. Women have 254 minor items and men have 248. In addition to routine physical examination, more emphasis also be placed on the examination of early diagnosis of diseases, such as early screening of tumors (especially early screening of breast cancer and cervical cancer in women), early detection of cardiovascular diseases and early preventive detection of chronic diseases.
4 : Life & Health Care Center
The center adopts "6S life care theory" , the theory of life care in terms of diet, body function and nutrition, sports, life habits and behaves, soul conservation and comprehensive medicine. With the full use of preventive medicine, clinical medicine, Traditional Chinese Medicine, functional medicine, biological medicine and new medicine, sports medicine, nutrition, inertia of medicine and genomics, cytomics and other international cutting-edge medical technologies, this center integrated prevention, prediction, treatment and management together, implementing the full-cycle care targeting anti-aging, cardiovascular system, immune system, digestive system, neurological system, endocrine system, liver and kidney function, pancreatic function, and tumor prevention. We are determined to offer all clients a tailor-made health care plan for improving their health and helping them choose a healthy lifestyle, forming healthy life habit and promoting their life quality.
5 : Life & Beauty care center
The Center puts "5M Beauty Care Theory" —beauty of body, mind & soul, life, language and behavior as the standard of beauty care, adhering to the principle of the beauty of health, the exclusiveness of beauty and the etiquette of beauty. It aims to offer Yiling's members professional, standard and international beauty conservation service. Persisting the five steps—awakening, understanding, designing, building-up and cultivating——in the process of establishing beauty, this center will set up a beauty care system regarding skin care, facial features, fat ratio, dental care and reproductive health.
The center has established the International Experts Alliance of BOAO YILING life beauty care, gathering the top expertise of the international medical and beauty industry. The members of the alliance include experts such as "PU LI QUN, JIANG HUA" and "LI JING".
The center has reached a strategic cooperation with Allergan company of the United States, and established the "Hainan Training Center of Allergan Company's Prosthesis Augmentation Mammoplasty 5p Process". Cooperated with JK plastic surgery hospital of South Korea, it has established "Boao International Medical & Treatment Center of JK plastic surgery hospital of South Korea".
Life beauty maintenance center employs the world's latest treatment technology and nursing equipment, and collects the world's top aesthetic resources, designating a life beauty maintenance program for all members.

6. Personal Image Design Center
This center is directed by Mr Chen Manxi, a famous domestic image consultant and designer who has been working for many celebrities for so long. It is a major mission for this center that to bring all members the specialized and exclusive personal image design service over the full gathering and usage of all resource from all around China even the world. Through professional image detection system which includes facial contour, body shape, color, style, skin type and facial features, each member will be clear about the evaluation and positioning of their image. On the basis of professional advice and guidance, including: haircut, makeup, clothing, accessories, and etc, every member will receive one-on-one image design service. This center also allows female to cultivate themselves by giving Elegant Lady Etiquette courses or mini lectures, which covers elegant postures and body contour training sections, to complete the improvement of members' overall temperament. Personal image management service is another major part of this center, it can ensure each member's personal image being taken care of professionally and privately. The Young Mommy & Matured Mother Image and Life cultivation project has subsequently opened various image courses from Qipao, embroidery, wardrobe management, to business etiquette, etc., to spread the oriental aesthetics and etiquette with Chinese characteristics in a diversified way.
7: Diseases Management Center
Adhering to the purpose of "care for life, care for health", the disease management center makes full use of the policy of the pilot zone, and introduces high-profile personnel, cutting-edge technology, advanced equipment and latest approved drugs into BOAO YILING.
The center has gathered over 500 authoritative clinical experts from 35 well-known hospitals at home and abroad and established the alliance of international life care physicians. Internationally, it has Royal Anderson Cancer Center, Mayo Clinic, the Methodist Hospital in Houston and so on join this alliance. Led by Prof. Yu Jinming, the chief academician of Chinese academy of engineering and the dean of Cancer Hospital of Shandong Province, more than 100 famous experts in cancer tumor field have joined the "BOAO international cancer prevention and control association" found by this center. This association sets accurate prevention, early detection, standard treatment and active rehabilitation as its major goal. With persistent efforts, it overcame difficulties and hard times, successfully established the "Level-4 Cancer Prevention & Control System", leading the way of health education of Cancer, screening technology and rehabilitation technology and such basic clinical research projects. This management center will guarantee the application of accurate medical cancer related new equipment, new drugs, and new technology and its safety and efficacy, promoting the construction of HAINAN Free Trade Zone (port) and carrying out the nine preferential policies, and boosting Chinese health industry. It will dedicated to create a healthy, beautiful and happy China.
The center integrates global high-quality medical resources, and establishes a disease management service platform, providing fast, accurate and effective disease management service and solutions for Yiling's members and patients. It will provide the best quality individualized one-stop navigation (escort) service for patients' disease treatment, rehabilitation and maintenance, so that every VIP in need can get the most timely, accurate and effective rehabilitation and maintenance service. This will help more families and individuals to regain health and life hope.

8: Body Function Rehabilitation Center
The essence of rehabilitation applies TCM is combined with the international modern rehabilitation concept, equipment and technical means to carry out rehabilitation management for the postoperative or post-intervention period of diseases such as cardiovascular and cerebrovascular diseases, tumors, nervous system and motor system. This center has attracted famous doctors who are guided by the concept of " top skill and fine morality make a master out of a doctor" to work together for providing considerate and professional rehabilitation programs which involve inspection, auscultation and olfaction, inquiry, pulse-taking and palpation. This center will aid clients release body exhaustion and reduce life trauma, and restore youth and vitality of life. At the same time, the whole rehabilitation process combines with modern therapy, it does not only focus on injury or diseases, but also the injury or diseases caused by a variety of physical and mental disorders. The rehabilitation treatment is diversified. Those treatments will be applied for improving patients' physical and mental functions, and maximizing the possibility of all patients to attain normal life back either of study or career. In this case, rejoining social life and enjoying society intergraty will not be difficult for them either.
9 : Culture and Arts Experience Center
Taking "to expand Chinese traditional culture, and promote beautiful and happy China" as the guideline, this center is committed to build up a high-class cultural exchange platform by utilizing and intergrating cultural resources on the basis of the cultural construction of Yiling Group and the goal of bring a "new world" to all clients. Meanwhile, it will focus on the present, embrace the future and the world. Through the inheritance of systematic Chinese traditional culture such as tea ceremony, incense ceremony, calligraphy and Chinese painting, Guqin, and Chinese porcelain culture, etc, and the combination of western wine, coffee and ikbana, those visible cultural form, it enables every clients to experience the attractiveness of culture more closely and easily. On the one hand, it adheres to the deeper digging into the traditional culture, allowing effective communcations of fine Chinese culture, on the other hand, it stick to the idea of cultivating and nourishing our body, mind and soul over culture and art. Our life habit, aesthetic value and personality could be polished by culture and art, and our life quality and health can be further improved as well.
10 : Boao Super Hospital of TCM (Traditional Chinese Medicine)
In March 2018, Boao International Famous TCM Masters Health Care Center (Boao Super Hospital of TCM). With the joint efforts of the TCM Doctor Qualification Certification Center of State Administration of TCM, Western & Eastern Medicine Develpment Fund of China Primary Health Care Fundation, and Boao Yiling Life Care Center, Culture heritage & Exchange Center with National TCM Masters was established. It contains National Medicine Section, TCM Herbs and Medicine Section, TCM Treatment Section and TCM Culture Academy. There are 2 academician workstations of Shi Xuemin and Yu Jinming, 5 TCM master studios of Zhang Daning, Shen Baofan, Lei Zhongyi, Li Tiangui and Wang Shimin, 8 TCM studios for TOP 100 national known masters, 21 research and development studios of Li nationality medicine and other famous medical departments. It has turned decades of clinical experience of famous Chinese doctors and classic prescriptions into attainments, and made 40 kinds of postively-feedbacked prescription and foods that are homologous with drugs. Such characteristic non-drug treatment projects as acupuncture, moxibustion, massage, bone setting and Ancient Prescription Applied Chinese Agarwood have been offered in this hospital as well. There are three sections regarding TCM academic exchange activities—TCM classics, TCM academy, and Doctor Forum of National TCM Masters. In 2018, it has received 12,000 members and more than 1,000 overseas guests. It has been rated as the national TCM culture and education base.
With the strong support of the provincial committee and the government, Boao Yiling Life Care Center has successfully applied for the license of "Boao Super Hospital of TCM (Traditional Chinese Medicine), and held the grand establishment ceremony in January 2019. The hospital will uphold "Life Care" system, and to fully establish a complex that links Chinese Characteristic TCM culture, wellness industry, medical treatment, tourism, science reaserch and education together, which will contain 9 sections—National Medicine, People's Diagnosis Clinic of TCM, TCM Herbs and Medicine, Noble TCM Pharmacy, TCM Culture Academy , TCM Museum, Reaserch Center of Ancient TCM Priscription and Recipe, and Training Center of National Medicine & TCM. Making full use of the advantages in Boao, Yiling Group will hold a world respective and to build this hospital as the carrier of TCM diagnosis and treatment which is of top quality and uniqueness internationally and of the biggest scope nationally. Based on this, Yiling Group will found a batch of TCM diagnosis and treatment demonstrations in different regions and to constructi high-end industry cluster of traditional Chinese medicine all over the country. It will attract people from all over the world especially from the contries One Belt & One Road projetcs to experience and enjoy the international first-class TCM Wellness and rehabilitation service, creating high-end medical tourism international brand of TCM characteristics.