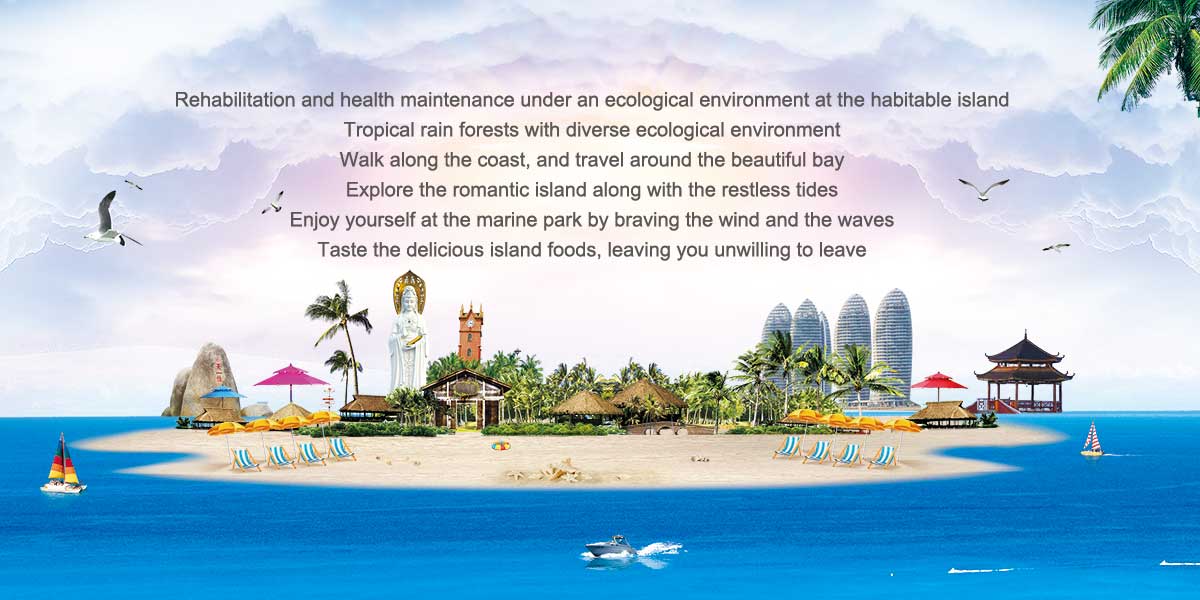 [Boundary Island] Blue sea & cloud sky, a happy island. Boundary Island is surrounded by exquisite ocean, where you can select diving, sea fishing, motor boats and other common marine tourism projects, as well as projects interacting with marine animals (dolphins, sea lions, turtles, whale sharks) and sea fishing with lots of fun.



[Nanshan Buddhist Culture Park]
[Betelnut Valley] Located at the Li and Miao Cultural Tourism Zone, Hainan, it is the first 5A scenic area featured with ethnic culture in China, where there are thousands of tall, straight and charming betelnut trees as well as the tropical rain forest full of centuries-old trees reaching up towards the sky and endless vines.



[Romantic Show] Visual feast, bringing extreme shock! Listen to the echo of Luobi Cave from thousands of years ago, experience the exotic charms of Maritime Silk Road and angelic tale on Luhuitou, and seek for romantic attractions in coconut forests, sea breeze and beautiful beach.

[Boao Dongyu Island Hot Spring] The unique one with island hot spring and coastal hot spring in China, and one of the hot springs with the most complete functions and most advanced devices in the whole Asia.

[Yalong Bay Tropical Paradise Forest Park] It is the unique one national tourist vacation resort located at Yalong Bay, Sanya City, Hainan Province, namely, a tropical coastal city, and the first coastal mountain ecological sightseeing & ecological vacation forest park in Hainan Province.

[Drifting on the Wanquan River] You can enjoy the thrilling experience of getting cross rip currents and dangerous shoals, and the poetic scenes along the bank.
[Biashiling Ridge] There are jagged rocks of grotesque shapes in thousands of postures, deep and serene caves, which is unknown to people. When being enshrouded by seas of clouds and fogs, the mountains will flicker, with different kinds of shapes, as if in the emptiness.
[Surfing in Riyue Bay] It is one of waters with the high-quality fixed wave type and sand wave type in the world, featured with transparent water, annual sea water temperature being around 26.5℃, where surfing is accessible around the year.
[Jianfengling National Forest Park] There is dense virgin forest landscape, with the whole mountain being sharped (hence the name).

[Qixianling Spring National Forest Park] There are rare plants and animals in the forest zone of the park where people can enjoy the scenery of primordial tropical rainforest.
[Touring Fairyland] Sanya Fairyland is located in the foothill of Nanshan Mountain in the west of Sanya City. It has beautiful views of the sea, mountains and stones along with cliffside carvings such as "Xiaodongtian", "Hanshanqiguan" and "Xianrenzu", etc.

[Nanwan Monkey Island] Nanwan Monkey Island is surrounded by the sea on three sides. It is the only island-type nature reserve for macaque in China and the world, which is now home to more than a thousand macaques.

[Wuzhizhou Island] Wuzhizhou Island enjoyed the reputation of "the first diving base in China".